Add your review
Alpha Prime Whey Blend
Alpha Prime Whey Blend
$44.99
($44.99 Incl. tax)
Unit price: $1.61 / Serving
out of stock
| | |
| --- | --- |
| Available in store: | Check availability |
The Whey Blend Protein Powder provides the fuel needed to make the most out of your workouts. Enjoy easy-to-digest protein powder to maximize the results of your time at the gym. View Supplement Info
Supplement Facts
WHEY BLEND CHOCOLATE BROWNIE BATTER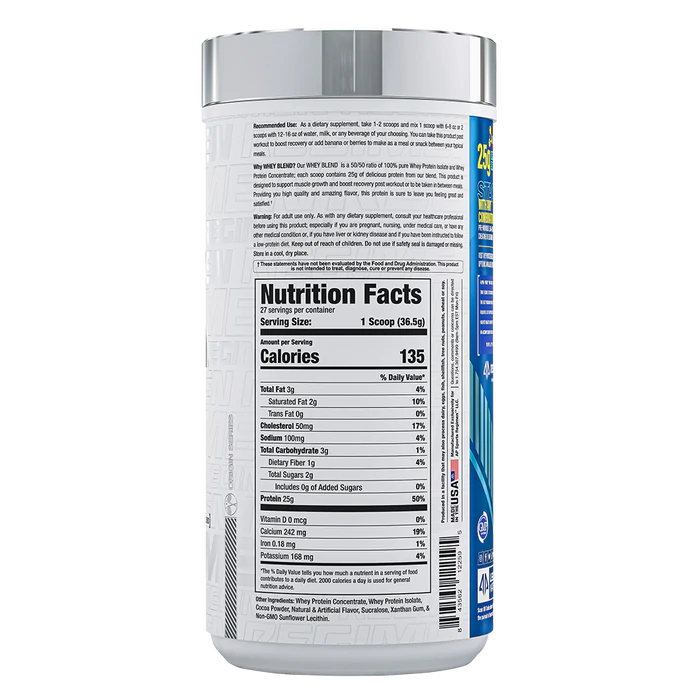 WHEY BLEND CHOCOLATE PEANUT BUTTER CUP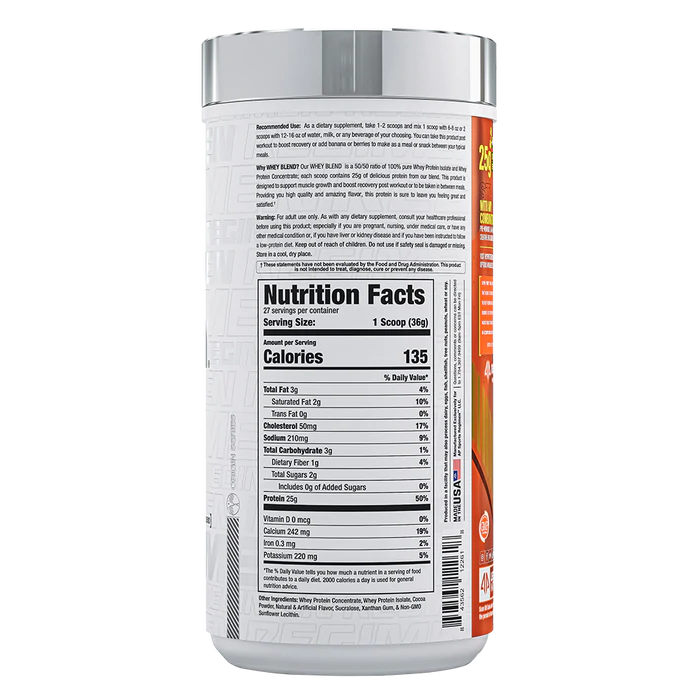 WHEY BLEND VANILLA SOFT SERVE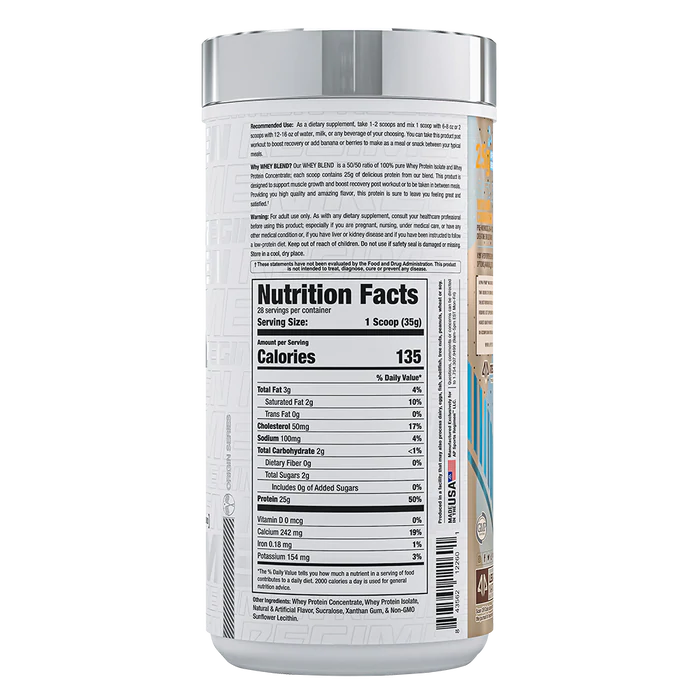 WHEY BLEND CINNAMON TOAST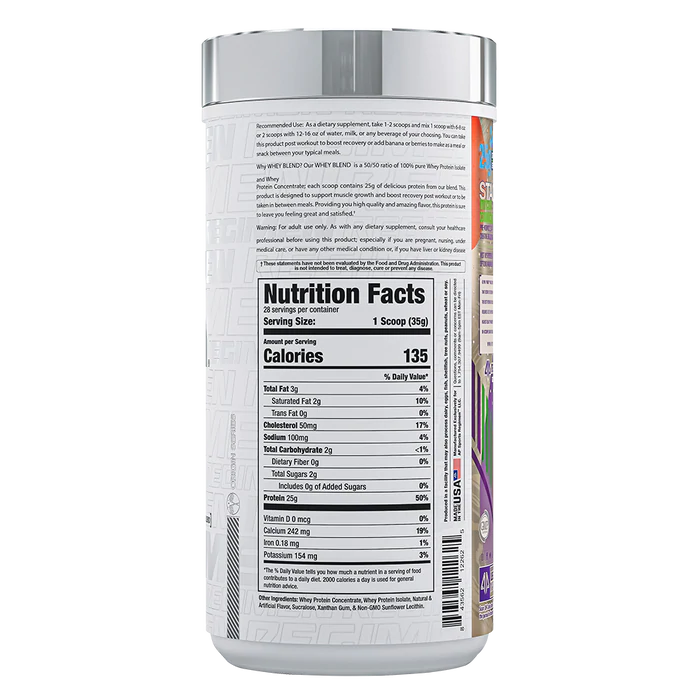 Getting enough protein to gain muscle is not always easy, which is where Whey Blend Protein Powder comes in. You can add a scoop of powder to a beverage of your choice for a meal replacement or post-workout recovery shake.
Whey Blend Protein Powder includes two pounds of fast-absorbing protein. You get about 28 servings per container. A single scoop contains a total of 25 grams of protein, allowing you to instantly boost your protein intake with minimal calories.
The whey blend is a 50/50 ratio of whey protein isolate and concentrate. The product is designed to increase muscle tissue repair for faster recovery from workouts. It includes 5.5 grams of BCAAs and 11.7 grams of essential amino acids per scoop.
Quality protein for maintaining and building lean muscle
Great snack or meal replacement
Easy-to-digest protein blend
25 grams of protein in each scoop
Low-sugar formula
Quality protein is an important part of a fitness regimen, whether you want to maintain or build more muscle. The manufacturer uses a specially formulated blend of 100% pure whey protein to support muscle growth and boost recovery.
The powder has no added sugars. Each scoop contains three grams of fat and two grams of carbs. You also get a moderate amount of calcium (242mg) and potassium (154mg).
Each scoop has 25 grams total of 100% pure whey protein, which is the preferred type of protein for muscle building. Compared to other sources of protein, whey is easier for your body to digest. While wheat protein is created using gluten, whey protein is made from coagulated milk. It is gluten-free and quickly absorbed by your body, making it a great option before or after a workout.
Whey Blend Protein Powder contains a 50/50 ratio of whey protein isolate (WPI) and whey protein concentrate (WPC).
Branched-Chain Amino Acids (5.5 grams)
The 25 grams of protein per scoop includes 5.5 grams of branched-chain amino acids (BCAAs). Out of the nine essential amino acids, three are BCAAs:
BCAAs come from protein-rich sources such as dairy, which is the source of whey protein. BCAAs, especially leucine, are responsible for stimulating the pathways that trigger muscle protein synthesis, which is the process of building muscle.
Studies also suggest that BCAAs help decrease delayed onset muscle soreness (DOMS), which often occurs within 12 to 24 hours of a workout. DOMS may force you to wait longer between gym sessions. Whey Blend Protein Powder includes the BCAAs needed to limit soreness so you can get back to training sooner.
Essential Amino Acids (11.7 grams)
While BCAAs are incredibly beneficial for muscle growth and recovery, you need additional essential amino acids (EAAs) for optimal results. Whey Blend Protein Powder includes 11.7 grams of EAAs per scoop.
EAAs help to improve muscle function. Ensuring that your body has proper amino acid levels controls the balance between muscle atrophy and growth. These amino acids also increase the supply of nitric oxide (NO) to your muscles, which helps to limit the buildup of lactic acid.
The bottom line is that you need a combination of essential amino acids to maximize your ability to pack on lean muscle and keep it on. Whey Blend offers an optimal balance of amino acids to give you a high-quality protein source.
As a dietary supplement, take 1-2 scoops and mix 1 scoop with 6-8 oz or 2 scoops with 12-16 oz of water, milk, or any beverage of your choosing. You can take this product post workout to boost recovery or add banana or berries to make as a meal or snack between your typical meals.
Why WHEY BLEND? Our WHEY BLEND is a 50/50 ratio of 100% pure Whey Protein Isolate and Whey
Protein Concentrate; each scoop contains 25g of delicious protein from our blend. This product is designed to support muscle growth and boost recovery post workout or to be taken in between meals. Providing you high quality and amazing flavor, this protein is sure to leave you feeling great and satisfied.†
Warning: For adult use only. As with any dietary supplement, consult your healthcare professional before using this product; especially if you are pregnant, nursing, under medical care, or have any other medical condition or, if you have liver or kidney disease and if you have been instructed to follow a low-protein diet. Keep out of reach of children. Do not use if safety seal is damaged or missing. Store in a cool, dry place.
DO NOT EXCEED RECOMMENDED DOSE. KEEP OUT OF THE REACH OF CHILDREN. STORE AT ROOM TEMPERATURE. TAMPER EVIDENT: DO NOT USE IF SEAL UNDER CAP IS BROKEN OR MISSING.
† These statements have not been evaluated by the Food and Drug Administration. This product is not intended to treat, diagnose, cure or prevent any disease.
0
stars based on
0
reviews