Add your review
Amino Prime
Amino Prime
$27.99
$19.59
($19.59 Incl. tax)
Unit price: $0.93 / Serving
5 in stock
| | |
| --- | --- |
| Available in store: | Check availability |
Speed Recovery
Reduce Muscle Soreness
Boost Muscle Building
Support Cellular Processes
Sustained Energy
Improved Endurance View Supplement Info
Ships Out Same Day If Ordered before 2pm EST Tue-Fri.
Supplement Facts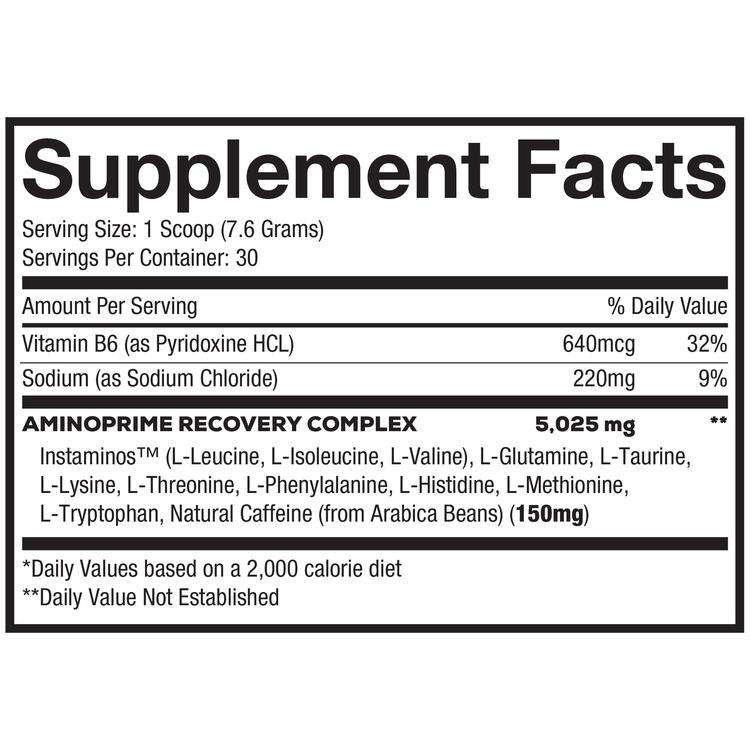 INSTAMINO™ BRANCHED CHAIN AMINO ACIDS
Instamino™ are a specially designed form of amino acids which easily dissolve for a smooth, clean delivery of BCAAs. The BCAAs are unique types of amino acids with a branch-like structure that are especially abundant in muscle.
L-LEUCINE
"turns on" muscle protein synthesis by interacting with the mammalian target of rapamycin (mTOR)
Serves are precursor to anticatabolic metabolites, HMB, HICA, and KIC
L-ISOLEUCINE
Similarly structured to leucine, isoleucine assists with the cellular uptake of leucine, for a more robust anabolic effect
L-VALINE
Supports Leucine and Isoleucine functions
May promote glycogen synthesis in muscle cells
ESSENTIAL AMINO ACIDS
The Essential Amino Acids are required by humans for proper biological function. They cannot be synthesized by the body, and therefore, they must be eaten.
The essential amino acids include the branched chain amino acids, leucine, isoleucine, and valine.
In addition, the EAAs include L-Lysine, L-Threonine, L-Phenylalanine, L-Histidine, L-Methionine, and L-Tryptophan.
These amino acids can be converted to the other 11 dietary amino acids: arginine, alanine, asparagine, aspartate, glycine, glutamate, glutamine, serine, tyrosine, proline, cysteine.
All 20 amino acids are used in the formation of muscle proteins
L-GLUTAMINE
While being classified as a nonessential amino acid, increased quantities of glutamine may support recovery.
Glutamine can be converted to glucose which can fuel muscle cells and increase glycogen resynthesis
supports the gastrointestinal system by stimulating protein synthesis
May improve hydration
TAURINE
Taurine is a sulfuric amino acid with some specialized effects.
Supports endothelial function
Has antioxidant effects
May improve exercise tolerance and reduce muscle soreness
NATURAL CAFFEINE
Caffeine is a xanthine molecule with pronounced biological effects
Caffeine causes adrenaline release
Adrenaline gives us the best of both worlds – increased calorie burn and increased fat burn.
0
stars based on
0
reviews