Armor XT
$27.99
($27.99 Incl. tax)
Unit price: $0.93 / Serving
out of stock
| | |
| --- | --- |
| Available in store: | Check availability |
Organ Support View Supplement Info
Supplement Facts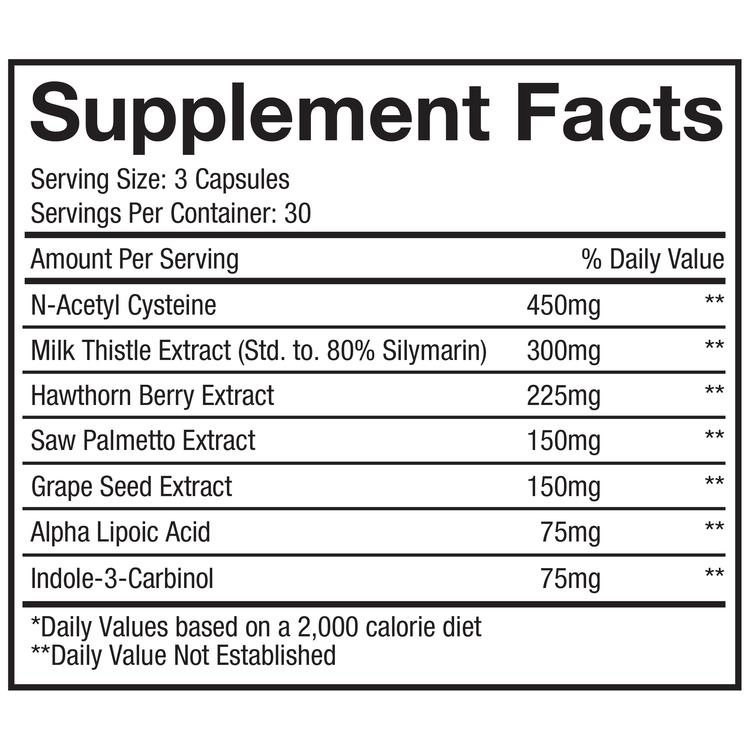 Fight Free Radicals
Normalize Estrogen Levels
Support Healthy Nerve Function
Liver Help
Daily Health Maintenance

N-Acetyl Cysteine is the most efficient way to improve levels of our body's best antioxidant, glutathione.
Milk Thistle Extract contains silymarins which support better liver function
Saw Palmetto may improve prostate health and quality of life
Indole-3-Carbinol helps optimize estrogen levels
N-ACETYL CYSTEINE
NAC is a modified amino acid that is a precursor to glutathione
It is superior to glutathione supplementation because glutathione is broken down during digestion, while NAC is absorbed.
reduces oxidative stress
May support liver, kidney, lung, and heart health.
MILK THISTLE EXTRACT
Milk Thistle contains a group of actives called silymarins which exhibit protective effects
Can enhance liver protein synthesis rates
May reduce oxidation within the liver
HAWTHORNE BERRY EXTRACT
Hawthorne berry is a traditional herbal medicine
May positively augment lipids metabolism
May increase intestinal transit time
May support liver health
SAW PALMETTO EXTRACT
Saw Palmetto is a tree similar to palm trees found in tropical areas.
May support healthy testosterone levels
May support prostate health
GRAPE SEED EXTRACT
Grape Seed extract contains antioxidant polyphenols that can positively augment health markers
May support cardiovascular function
May have a protective effect on the testes of males
ALPHA LIPOIC ACID
ALA is a health fat which supports mitochondrial health.
improves healthy energy metabolism
reduces general oxidation
INDOLE-3-CARBINOL
Indole-3-Carbinol is a potentially estrogen influencing compound found in cruciferous vegetables
Interacts with the estrogen receptor indirectly
this may augment binding of estrogen molecules
0
stars based on
0
reviews