Add your review
Electrolytes (45 servings)
Electrolytes (45 servings)
13 in stock
| | |
| --- | --- |
| Available in store: | Check availability |
Hydration, Endurance and Recovery View Supplement Info
Ships Out Same Day If Ordered before 2pm EST Tue-Fri.
Supplement Facts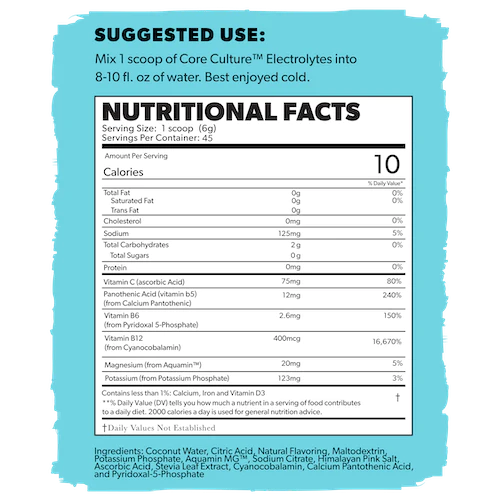 Electrolytes, minerals, and vitamins to help hydrate, recover and endure any day, workout, or heatwave
Hydration, Recovery, and Overall Wellness
Gluten-Free
Vegan Friendly
Low Carb
Non-GMO
No Added Sugars
WHAT ARE ELECTROLYTES USED FOR?
Core Culture® Electrolytes supplements are an all-natural and low carb hydration and endurance option to replinish lost electrolytes during bouts of physical performance and dehydration.
Electrolytes contain the minerals and vitamins needed to help replenish and sustain the daily grind or intense physical activity.
1 serving = 1 scoop (6g)
Core Culture® Electrolytes supplement contain 45 servings, 1 scoop each
A natural and low carb alternative to pre-bottled and other artificial and sugar-powered hydration options.
Magnesium
20MG
exercise performance *
blood sugar*
muscle function*
Nervous system health*
Potassium
123MG
Muscle contraction*
Fluid Balance*
Nerve Signaling*
Vitamin B12
400MCG
Vitamin B6
2.6MG
Vitamin B5
12MG
*These statements have not been evaluated by the Food and Drug Administration.
0
stars based on
0
reviews