Add your review
Seventh Gear // Extreme Pre-Workout
Seventh Gear // Extreme Pre-Workout
$46.99
($46.99 Incl. tax)
Unit price: $0.78 / Serving
1 in stock
| | |
| --- | --- |
| Available in store: | Check availability |
SEVENTH GEAR IS PACKED WITH 500MG OF HIGH-POWERED STIMULANTS THAT WILL ALLOW YOU TO PUSH YOUR BODY TO LEVELS YOU NEVER THOUGHT POSSIBLE View Supplement Info
Supplement Facts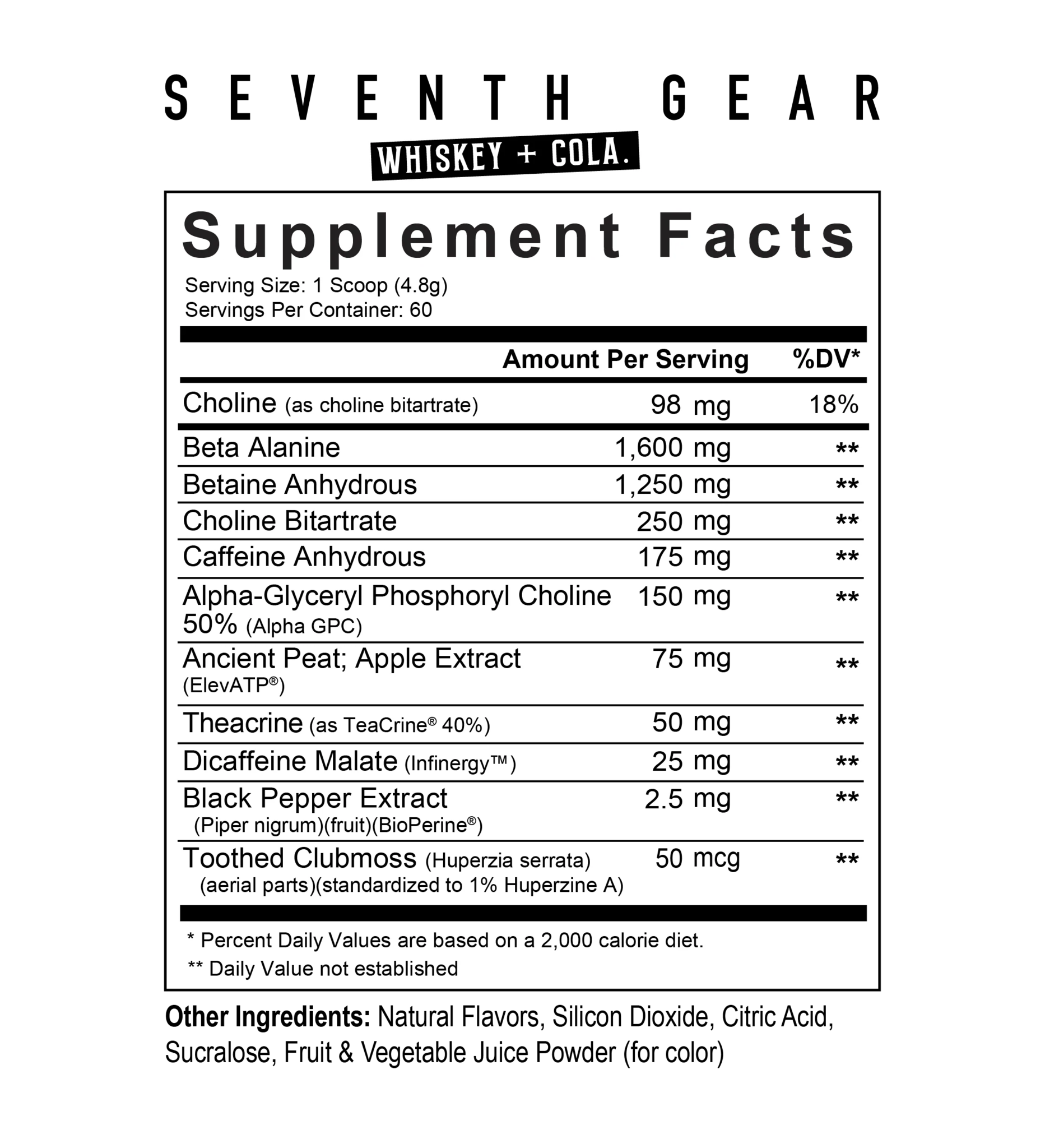 FLAVORS: HWMF, Raspberry Lemonade, Pineapple Express, Deadlifts & Gummy Bears, Your Moms Sweet Peach, Your Moms Lemonade, Whiskey + Cola
HERE ARE SOME KEY FEATURES, INGREDIENTS AND BENEFITS OF SEVENTH GEAR! 
387.5 MILLIGRAMS CAFFEINE PER SERVING FROM FAST-ACTING AND SUSTAINED RELEASE SOURCES.

4 TRADEMARKED/PATENTED INGREDIENTS, INCLUDEING ELEVATP®, TEACRINE®, BIOPERINE®, AND INFINERGY™!

30 SERVINGS PER CONTAINER (2 SCOOPS)(~387.5 MG CAFFEINE) OR 60 SERVINGS PER CONTAINER (1 SCOOP)(~193.75 MG CAFFEINE)

SUSTAINED-RELEASE ENERGY, INCREASED STRENGTH, ENDURANCE, POWER, AND FOCUS

GLUTEN-FREE, SOY-FREE, DAIRY-FREE, KETO-FRIENDLY, VEGETARIAN-FRIENDLY, SUGAR-FREE, ZERO CALORIES
SEVENTH GEAR… IS THE MOST EXCITING NEW STIMULANT PRE WORKOUT THAT WILL TAKE YOU AND YOUR WORKOUT ON A HIGH-SPEED CHASE YOU WILL NEVER FORGET.  I'M SURE YOU MAY HAVE REACHED THAT 4TH, 5TH OR 6TH GEAR IN THE PAST, BUT HAVE YOU HIT 7TH GEAR?  SEVENTH GEAR IS PACKED WITH 500MG OF HIGH-POWERED STIMULANTS THAT WILL ALLOW YOU TO PUSH YOUR BODY TO LEVELS YOU NEVER THOUGHT POSSIBLE. 
WE SPECIFICALLY FORMULATED SEVENTH GEAR TO HELP INCREASE ENERGY, MAXIMIZE FOCUS, AND ENHANCE YOUR MUSCULAR ENDURANCE.  LIKE ALL AXE & SLEDGE SUPPLEMENTS, 7TH GEAR HAS BEEN DESIGNED AROUND 4 PATENT INGREDIENTS TO PROVIDE YOU WITH THE HIGHEST QUALITY OF PRODUCT YOU DESERVE!
WARNING! IF YOU HAVE NEVER TAKEN A PRE WORKOUT BEFORE, THE FOLLOWING STRONG STIMULANT PRE WORKOUT MAY NOT BE FOR YOU! THESE INGREDIENTS ARE PRIMARILY FOR THE HWMF PEOPLE THAT KNOW WHAT PRE-WORKOUTS LIKE SEVENTH GEAR OFFER AND KNOW WHAT THEY ARE LOOKING FOR!
5
stars based on
1
reviews