Add your review
Superhuman Protein Swoleberry Slasher
Superhuman Protein Swoleberry Slasher
$54.99
($54.99 Incl. tax)
Unit price: $1.96 / Serving
14 in stock
| | |
| --- | --- |
| Available in store: | Check availability |
28 Serving Whey Protein Isolate View Supplement Info
Ships Out Same Day If Ordered before 2pm EST Tue-Fri.
Supplement Facts
Alpha Lion's incredibly rare limited edition Swoleberry Slasher Superhuman Protein featuring 25g of protein in every serving, all from premium whey isolate Halloween flavor
WHEY PROTEIN ISOLATE
Supports Lean Muscle Growth†
Helps Promote Healthy Muscle Protein Synthesis†
Supports Muscle Recovery †
Helps Promote Protein Digestion with DigeZyme® per serving†
Helps Promote Protein Absorption with AstraGin® per serving†
25g of Pure Undenatured Whey Protein Isolate†
Utilizes Cross-flow Microfiltration Process†
WHEY PROTEIN JUST BECAME SUPERHUMAN
A mouth-watering whey protein isolate for those who want to feel Superhuman after crushing every workout…
Combining unbeatable flavor with 25 grams of ultra-premium undenatured protein in every scoop…
With a patented digestive enzyme blend to minimize stomach discomfort†...
Resulting in a protein experience that's super pure, super easy to digest, and super tasty.†
FEEL SCIENCE WORK ITS MUSCLE-GROWTH MAGIC!†
Not all whey protein isolates are created equal...
Only one can be truly Superhuman.
By starting with Glanbia's Provon® 290 SFL premium quality undenatured protein source…
Then using an extensive cross-flow microfiltration process to maximize protein purity…
You are left with 28 servings of the cleanest, smoothest protein on the planet.†
In the words of the great Ron Burgundy: "It's science."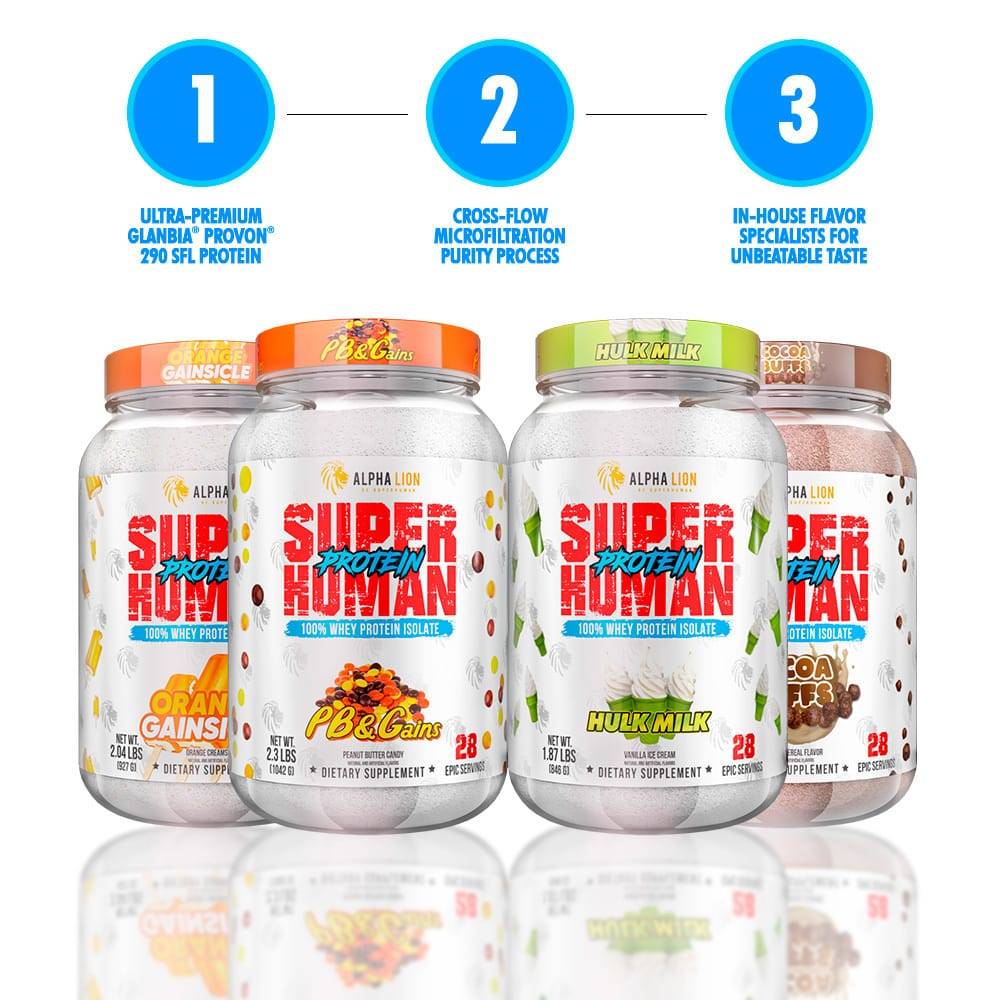 BUILD BULGING BICEPS, NOT A BULGING BELLY
Say "bye bye bloating!" thanks to DigeZyme®—a patented complex of 5 digestive enzymes:
Amylase
Protease
Lactase
Lipase
Cellulase
These enzymes help promote healthy digestion by breaking down the molecules into smaller and simpler units that can be absorbed easier by the body†…
Unlocking the post-workout freedom to help you feel great and refreshed after every serving (instead of feeling like you just swallowed a whole watermelon).†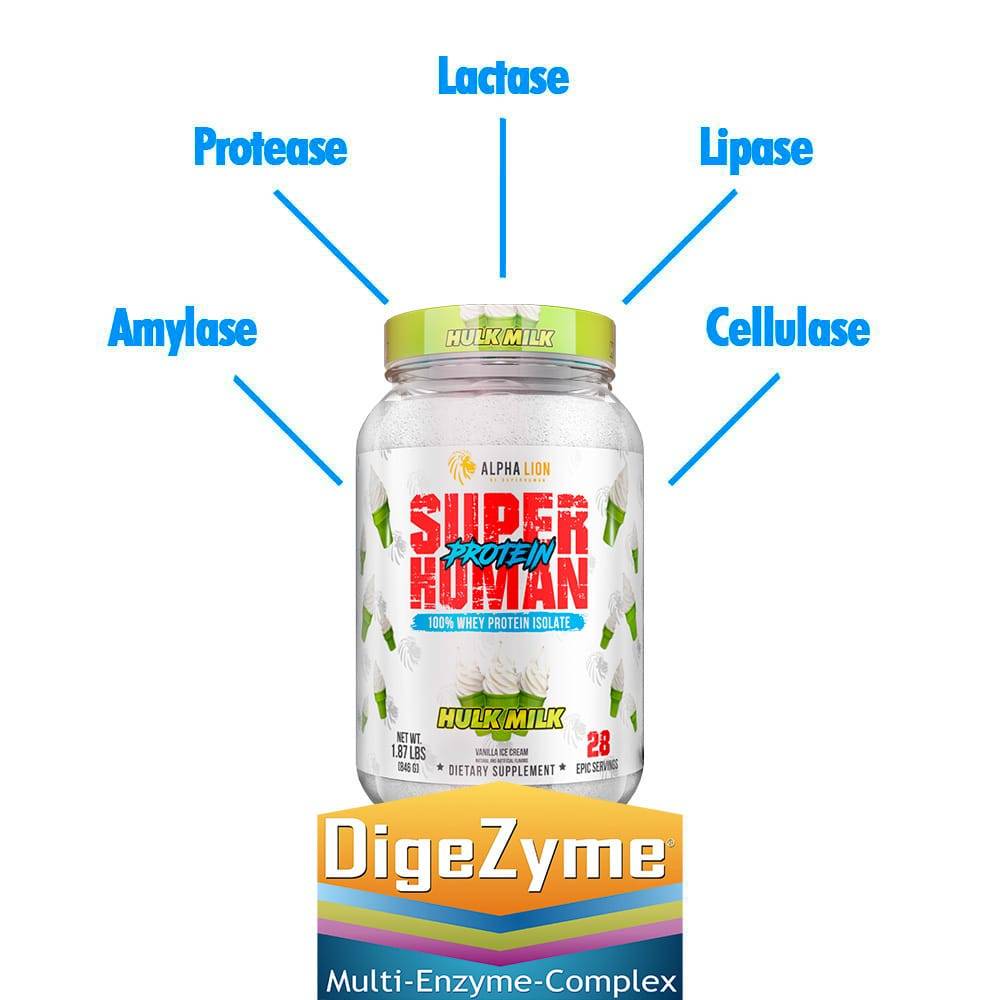 GET MORE OUT OF EVERY SCOOP
With AstraGin®, your body is primed to absorb the most nutrients possible from every scoop†…
Compounding results faster and gives your depleted muscles more of what they need to supercharge post-workout muscle growth.†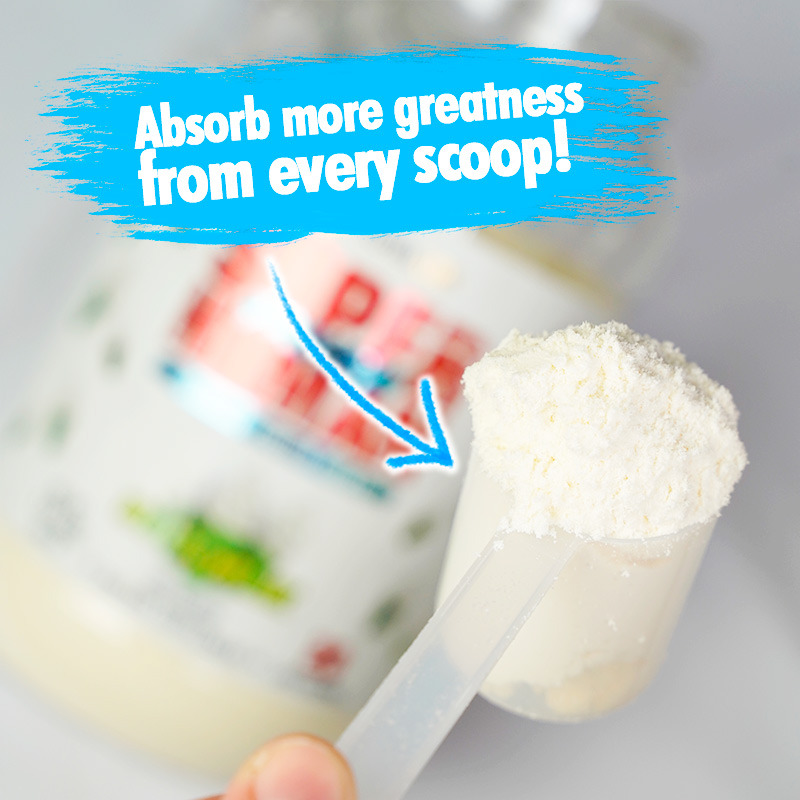 5
stars based on
1
reviews