Add your review
Plant Fed: A Premium Vegan Protein Powder
Plant Fed: A Premium Vegan Protein Powder
$49.99
($49.99 Incl. tax)
Unit price: $1.67 / Serving
9 in stock
| | |
| --- | --- |
| Available in store: | Check availability |
Plant Based Protein Powder View Supplement Info
Supplement Facts
PLANT-POWERED PROTEIN
PROTEIN IS AN ESSENTIAL MACRONUTRIENT THAT YOU NEED TO CONSUME ON A DAILY BASIS IN ORDER TO OPTIMIZE YOUR HEALTH AND PERFORMANCE. CONSUMING ENOUGH PROTEIN CONSISTENCY THROUGHOUT THE DAY IS ESPECIALLY IMPORTANT FOR THOSE THAT ARE PHYSICALLY ACTIVE. IF YOU WANT TO LOSE FAT, BUILD MUSCLE, AND GAIN STRENGTH, BUT ARE FALLING SHORT ON YOUR PROTEIN INTAKE, THEN DON'T EXPECT TO SEE GOOD RESULTS FROM YOUR EXERCISE PROGRAM.

ALTHOUGH PROTEIN POWDERS ARE NOT NECESSARY, THEY ARE VERY HELPFUL FOR REACHING YOUR DAILY PROTEIN INTAKE. PROTEIN POWDERS ARE TASTY, AFFORDABLE, VERSATILE AND CONVENIENT. THEY ARE ESPECIALLY USEFUL FOR THOSE THAT ARE ON A STRICT VEGAN OR VEGETARIAN DIET, WHICH IS WHY WE CREATED PLANT FED! PLANT FED IS A PREMIUM VEGAN PROTEIN POWDER THAT CONTAINS 20 GRAMS OF COMPLETE PROTEIN COMING FROM A COMBINATION OF PEA AND RICE PROTEIN.

HERE'S A QUICK MACRONUTRIENT BREAKDOWN OF WHAT'S IN EACH SCOOP OF PLANT FED:
CALORIES: 100-110

PROTEIN: 20 GRAMS

CARBS: 1 GRAM

FAT: 2 GRAMS
PLANT FED ALSO CONTAINS 50 MILLIGRAMS OF DIGESEB® DIGESTIVE ENZYMES TO ENHANCE NUTRIENT ABSORPTION, ASSIMILATION, AND UTILIZATION. WHETHER YOU'RE A VEGAN OR NOT, PLANT FED IS A GREAT OPTION FOR THOSE THAT CAN'T TOLERATE DAIRY, ARE LOOKING FOR ANOTHER HIGH-QUALITY PROTEIN SOURCE, AND/OR PREFERS NATURAL SWEETENERS OVER ARTIFICIAL.

SOME OTHER KEY FEATURES OF PLANT FED INCLUDE:
NATURALLY FLAVORED, SWEETENED, AND COLORED

GLUTEN FREE

DAIRY-FREE

KETO-FRIENDLY

ZERO SUGAR

COMPLETE AMINO ACID PROFILE

NO AMINO SPIKING

THIRD-PARTY TESTED FOR HEAVY METALS, MICROBIALS, AND PURITY
COMPARED TO OTHER PROTEIN POWDERS, PLANT FED HAS A SMOOTH CONSISTENCY, MIXES EASILY, AND DIGESTS EXTREMELY WELL. YOU CAN HAVE PLANT FED ON ITS OWN, ADD IT TO A SMOOTHIE, MIX IT IN YOUR OATMEAL, AND EVEN BAKE WITH IT! KILL YOUR CRAVINGS AND FUEL YOUR RECOVERY WITH PLANT FED!
Peanut Butter Banana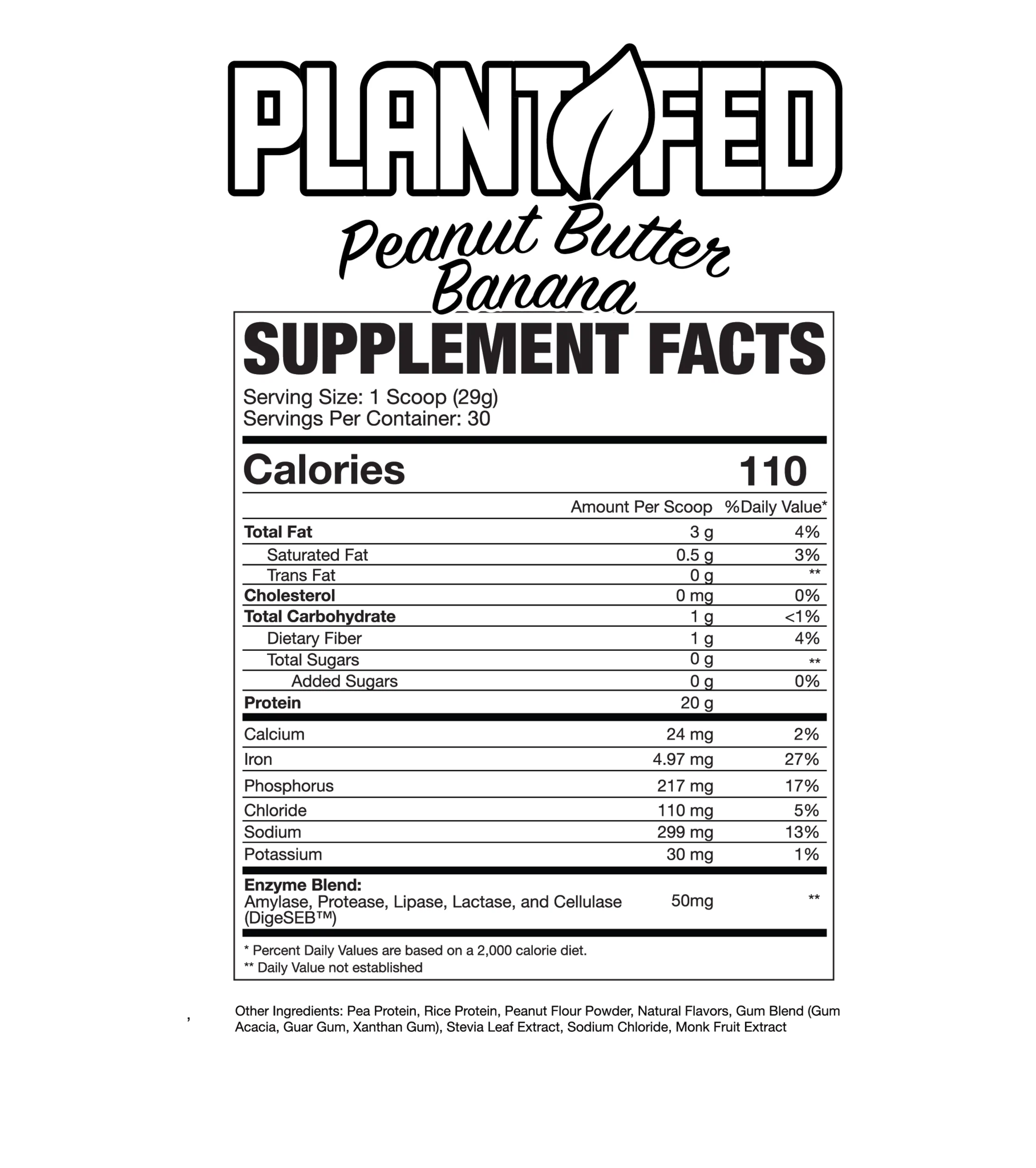 Vanilla Coconut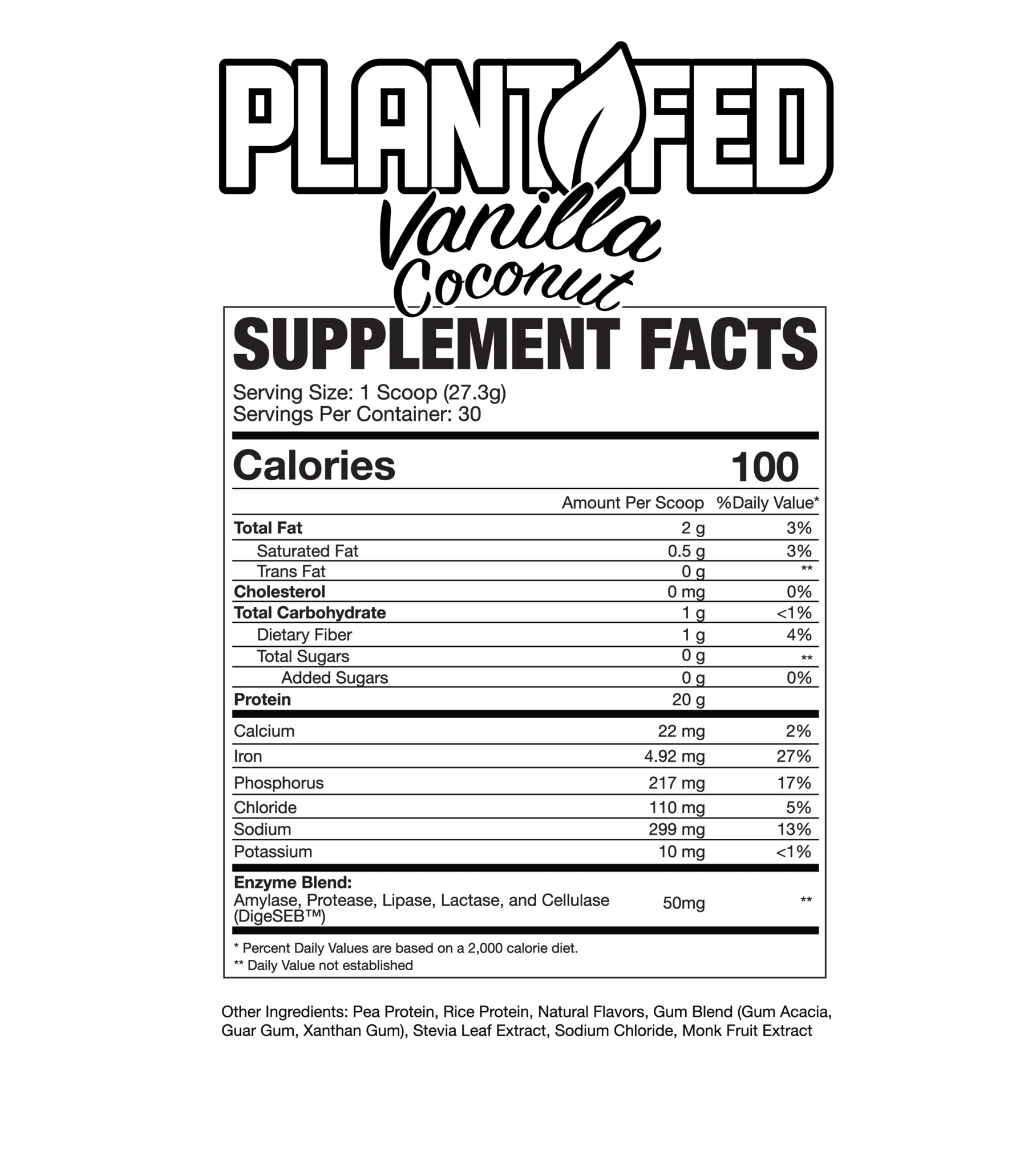 0
stars based on
0
reviews