Add your review
Alani Nu Balance
Alani Nu Balance
$49.99
$49.99
($49.99 Incl. tax)
4 in stock
| | |
| --- | --- |
| Available in store: | Check availability |
Hormonal Balance, Weight Management Support, Skin Complexion Support, 120 Capsules View Supplement Info
Supplement Facts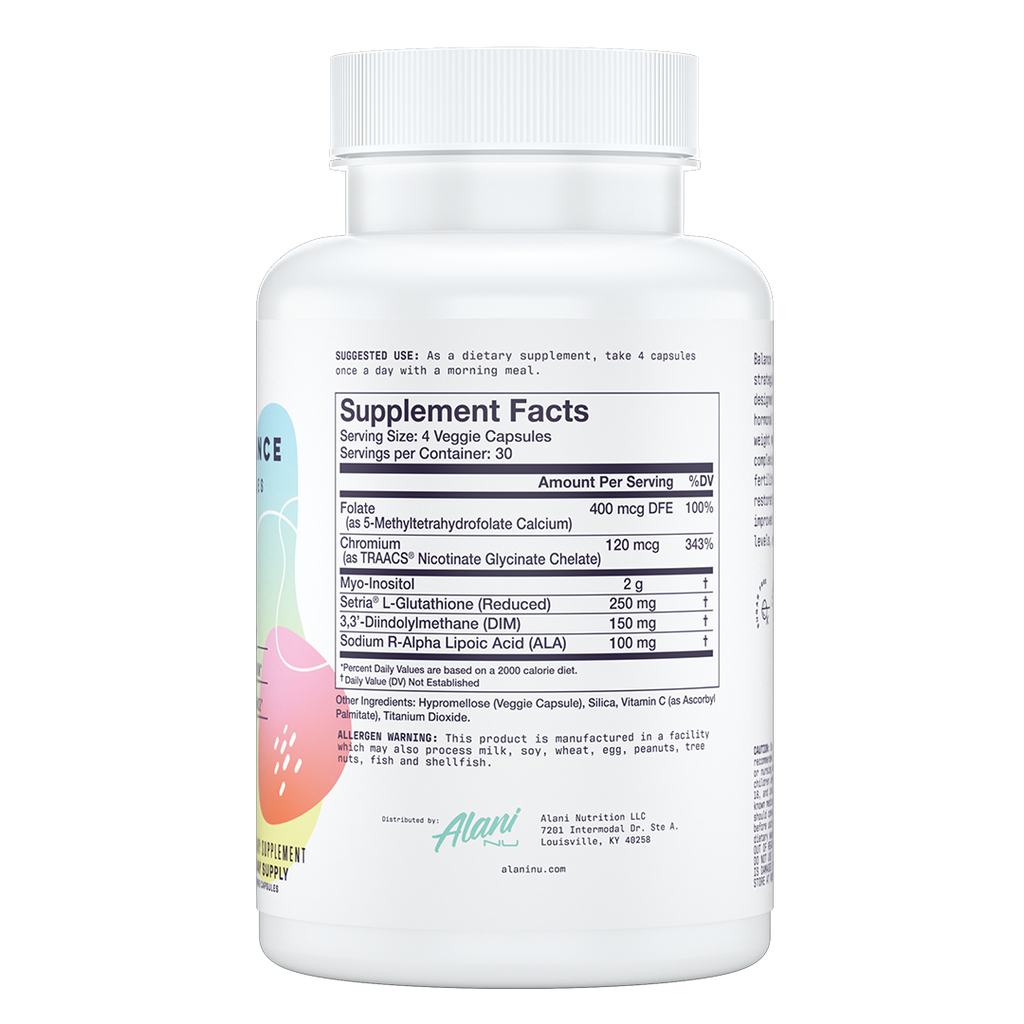 Alani Nu Balance is a cornerstone of the Alani Nu Essentials line. Balance contains ingredients that support women's health, and is a great addition to any overall wellness program for women. This formula contains DIM and myo-inositol, a unique form of inositol that helps with cell function and growth. ALA helps with cell energy metabolism and chromium supports blood sugar metabolism and glucose utilization.
Alani Nu's BALANCE CAPSULES - 30-Day Supply
Alani Nu's Hormonal Balance, Weight Management Support, Skin Complexion Support, 120 Capsules
Alani Nu's 5-star signature supplement, Balance, is expertly crafted to promote hormonal equilibrium, assist with weight management, enhance complexion, and bolster fertility. Experience rejuvenating sleep, heightened energy levels, and more with our Balance capsules.
Key Ingredients:
Myo-Inositol: Elevate Female Fertility and Restore Insulin Sensitivity

Myo-Inositol, a prominent component in our Balance capsules, actively supports female fertility while aiding in the restoration of insulin sensitivity.

L-Glutathione: Illuminate Complexion and Reduce Wrinkles through Enhanced Hydration

L-Glutathione, a crucial ingredient in Balance, works to brighten your complexion and reduce wrinkles by promoting optimal hydration.

DIM: Regulate Estrogen Metabolism to Prevent Imbalances

DIM, found in our capsules, plays a pivotal role in regulating estrogen metabolism, preventing drastic fluctuations in estrogen levels, and halting the conversion of testosterone into estrogen.

ALA: Enhance Insulin Sensitivity for Overweight/PCOS Women

ALA, in combination with Myo-Inositol, has been proven to increase insulin sensitivity in women who are overweight or dealing with PCOS.

Chromium: Improve Blood Sugar Control and Combat Mid-Section Weight Gain

Chromium, an essential component in Balance, is known to enhance blood sugar control and reduce weight gain and fat deposition, particularly in the midsection.

Folate: Support Cardiovascular, Neural, and Psycho-Emotional Health

Folate, a vital element in our product, positively influences cardiovascular health, neural well-being, and psycho-emotional balance. Some individuals may turn to this supplement to support their journey to fertility and fetal development.
Elevate your wellness journey with Alani Nu's Balance Capsules, meticulously formulated to enhance your hormonal balance, weight management, complexion, and fertility. Achieve the equilibrium your body deserves, and let Balance be your trusted partner in this transformative process.
5
stars based on
1
reviews