Add your review
All Day You May Caffeinated
All Day You May Caffeinated
$48.99
($48.99 Incl. tax)
Unit price: $1.94 / Serving
1 in stock
| | |
| --- | --- |
| Available in store: | Check availability |
CAFFEINATED BCAA RECOVERY DRINK View Supplement Info
Supplement Facts
Available Flavors: Fruit Punch, Vanilla Iced Coffee & Southern Sweet Tea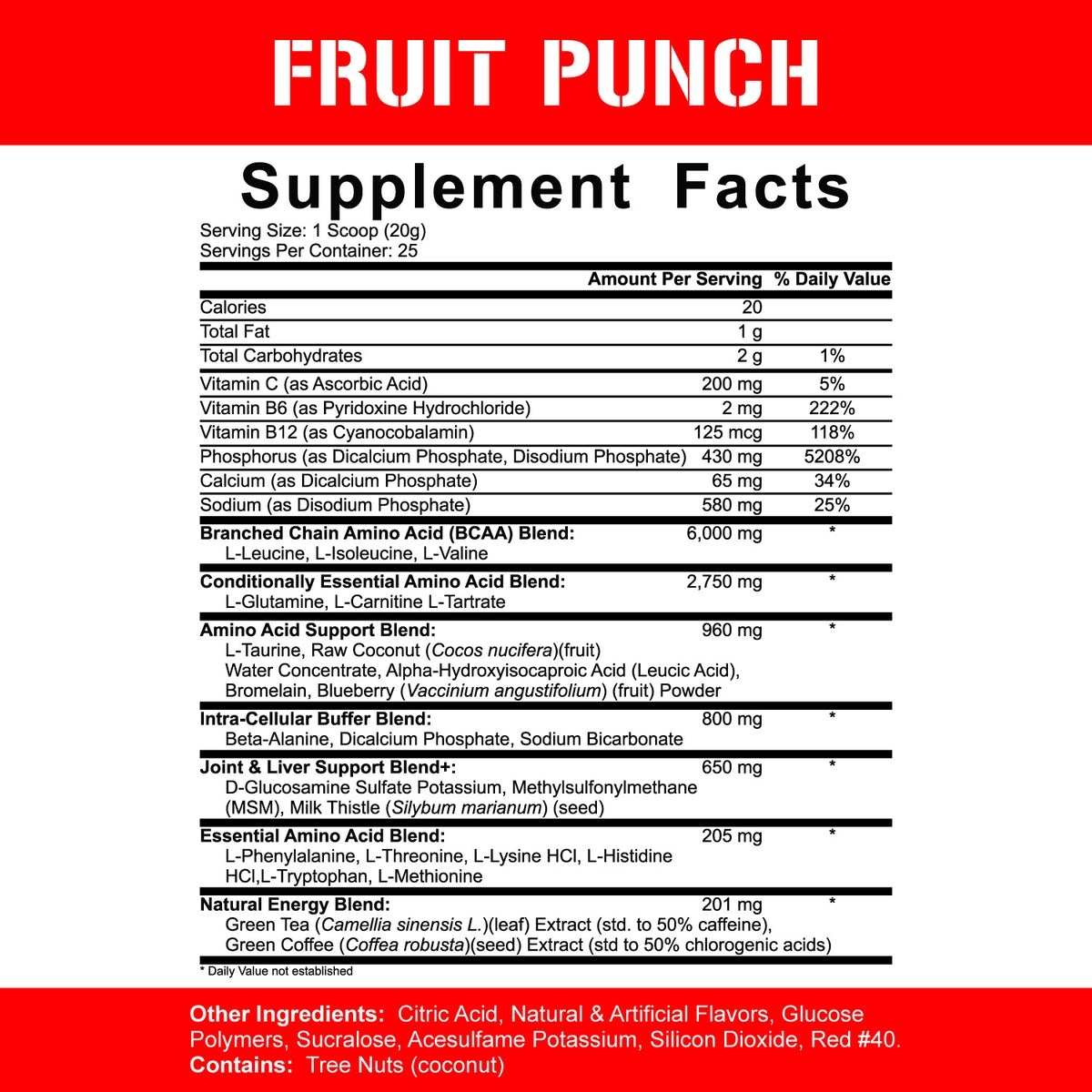 BCAA BLEND – 6 GRAMS
Leucine, Isoleucine, Valine
Of the three BCAAs, and all the amino acids, Leucine is the most anabolic. It has the most research supporting its ability to stimulate protein synthesis. We use an innovative 10:1:1 ratio. This means that out of 6 grams, you're getting a MONSTER 5-gram dose of Leucine. The other two BCAAs and all the aminos in this formula work synergistically with Leucine to promote optimal results.(1)
ESSENTIAL AMINO ACID BLEND – 155 MG
L-Phenylalanine, L-Threonine, L-Histidine, L-Methionine
There are nine total EAAs, and they include the BCAAs. The most recent research has shown that protein synthesis is stimulated to a greater degree if all the EAAs are included. Therefore, we added them to ADYM Caffeinated: Legendary Series. You know you can count on 5% Nutrition to stay on top of, and react to, the latest research.(2)
CONDITIONALLY ESSENTIAL AMINO ACID BLEND – 2,750 MG
L-Glutamine, L-Carnitine L-Tartrate
We took the idea of using EAAs a step further. We added the Conditionally Essential Amino Acids (CEAAs). These are the amino acids that the body can't make under certain conditions, such as physical or emotional stress.
Glutamine - This is a well-known amino that has a big role in preventing muscle protein breakdown as well as supporting recovery. Not to mention, Glutamine helps you stay in an anabolic state. It's also no coincidence that it works synergistically with the BCAAs to stimulate protein synthesis. In fact, Glutamine and the BCAAs make up most of the amino acids in muscle tissue.(3)
L-Carnitine L-Tartrate – We've included this version of Carnitine because it supports testosterone production. LCLT influences muscle growth by increasing the androgen receptor that lets testosterone work more effectively in your body
.(4)
AMINO ACID SUPPORT BLEND – 960 MG
L-Taurine, Raw Coconut Water Concentrate, Leucic Acid, Bromelain, Blueberry Fruit Powder
Taurine – This is an amino acid-like compound that's usually included in pre-workouts and energy drinks. While it has cognitive benefits, it also promotes cell volume. Taurine pulls water into the muscles. This hyper-hydrates them and promotes water-based pumps.
Coconut Water Concentrate – If you're working out and sweating, you need to replace the electrolytes you're losing. Otherwise, you risk dehydration and muscle cramps. Coconut Water is a complete fluid replacement that contains electrolyte minerals, vitamins, antioxidants, amino acids, and enzymes.
Leucic Acid (Alpha-Hydroxyisocaproic Acid) – Also known as HICA, this is a metabolite of Leucine. Leucic Acid works synergistically with the BCAAs & EAAs to stimulate protein synthesis. Additionally, it binds ammonia in the muscles during hard training, thereby slowing fatigue.(5)
INTRA-CELLULAR BUFFER BLEND – 800 MG
Beta-Alanine, DiCalcium Phosphate, Sodium Bicarbonate
These ingredients work synergistically with Leucic Acid to create a powerful anti-fatigue complex. Slowing fatigue can transform your workouts!
Beta-Alanine – Everyone knows about this ingredient. It's famous for its harmless flushing feeling. Don't worry, we purposely dosed it lower to avoid that sensation. Even so, Beta-Alanine buffers lactic acid by converting it to carnosine in the body. This buffers lactic acid and helps prevent that drop in pH. This, in turn, lets you push your sets past failure.
JOINT SUPPORT BLEND – 600 MG
D-Glucosamine Sulfate Potassium, MSM
Ultimately, how hard you train comes down to how your joints feel. After all, your muscles aren't the only thing taking a beating during a workout. Your elbow, shoulder, knee, joints might suffer the most. That's why All Day You May Caffeinated: Legendary Series includes a joint support complex. Of course, it uses two of the most powerful joint ingredients available!
NATURAL ENERGY BLEND – 125 MG
Caffeine From Green Tea & PurCaf® (Organic Caffeine from Green Coffee Bean)
Ah, caffeine! Now you can start your day with the energy you crave and the anabolic state you need. Our Natural Energy Blend uses two natural sources for a clean caffeine buzz!
Enjoy your Caffeine and your muscle-building and recovery nutrients in one delicious formula! Do you want to know what's even better? One serving of ADYM Caffeinated: Legendary Series costs less than those sugar-loaded coffee drinks!
0
stars based on
0
reviews