Now that 2020's over (thank god.. we know), it's time to take a look at which products at XN Supps topped their categories this year, to officially be named our Top Products of 2020!
       Just like 2020, there were a few things on the list that we could say we saw coming, but there were quite a few surprises as well. Some newcomers rose to the top to claim the number one spot, while some classic G.O.A.T.s made their stand, and once again, proved that they can not be topped.
       To put together the XN Most Popular Products list, we first broke the list up into the product categories Pre-Workout, BCCA/EAA, Fat Burner, Smoothie, Test Booster, Multi Vitamin, Protein, Energy Drink, and Protein Bar. Then, based on customer satisfaction we crowned a winner in each category for each location (ex: XN Supplements & Smoothies Brownstown's Most Popular Pre-Wokrout) then tallied up the results for an overall winner across every location. So without further ado:
XN Supps' Most Popular Pre-Workout of 2020
       We'll start with the category we know you all really want to see, Pre-Workout. There were not a lot of surprises here. Overall, Glaxon's retail exclusive G.F.Y. has absolutely taken the XN Supps shelves by storm, ever since it arrived. G.F.Y. is undoubtedly a pre-workout for the "stimulant junkies" out there, packing 420mg of caffeine and over 600mg of nootropic ingredients, including VitaCholine, Alpha GPC, and L-Dopa, into a single "full serving" scoop. On top of their beautiful formulas and unique ingredients, Glaxon made sure that all of their products, from their pre-workouts to their greens, taste absolutely delicious, and the Knockout Punch flavor of G.F.Y. falls right in line. XN customers in all three locations repeatedly let staff know that Glaxon's G.F.Y., in the Knockout Punch flavor, not only worked great, but tasted phenomenal as well.

XN Supps' Most Popular BCAA of 2020
        In our next category, we have our first G.O.A.T., making a stand, and reiterating once again, that it is in fact, the XN Supps fan favorite, of amino acid products. Overall, 5% Nutrition's All Day You May, in the Southern Sweet Tea flavor, took the title of XN Supplements & Smoothies Most Popular BCAA of 2020, and we personally believe the unbelievable, spot on, Southern Sweet Tea flavor has A LOT to do with this. Although All Day You May does boast a HUGE dose of BCAAs, within a great intra workout formula, the thing that XN customers seem to love the most about this product, is how much it tastes just like a good ol glass of Southern Sweet Tea, on a warm summer day.

XN Supps' Most Popular Fat Burners of 2020
        For the first time in a while, the Fat Burner category was completely up for grabs. Due to the recent crack down on DMAA and DMHA, a lot of classic XN fan favorites disappeared or were reformulated, leaving room for just about anyone to sneak in and steal the title of XN Supplements & Smoothies Most Popular Fat Burner. Blackstone Labs Arson did just that, largely due to the fact that Blackstone Labs decided NOT to take DMHA out of their products. Still boasting a combination of 2-aminoisoheptane, caffeine, and eria jarensis (a DMHA like stimulant), the Arson formula packs a serious punch that XN customers in all three locations seemed to be looking for. Arson's robust stimulant formula is sure to not only get you sweating, but also keep you energized and focused, when you're on a calorie deficit, and still need to power through your day.

*Due to Popularity of This Product, ARSON is Currently Out of Stock. To Find Out When This Product is Available Again, Please Follow Us on Instagram and Keep an Eye on Our Story!*
XN Supps' Most Popular Smoothies of 2020
       SLEEPER ALERT! This is one we didn't see coming… although we probably should have. The Chocolate PB Bananza swept the competition, by topping all three location lists, to be crowned the XN Supps Most Popular Smoothie, this year. Now, it's not surprising to us that people love the Chocolate PB Bananza. The classic combination of rich chocolate protein, the perfect amount of creamy peanut butter, deliciously blended with a hint of banana, is something you can never get enough of. It was however surprising, that after introducing close to about 15 new, smoothie creations to our robust menu in the past year, an almost 10 year old menu item still came out on top… not just in one location, but in all three. When it comes to the Chocolate PB Bananza our customers went bananas over it!

XN Supps' Most Popular Test Boosters of 2020
       Here's a surprise! Everything in this category is NATURAL! The fight for XN Supps Most Popular Test Booster was a slug fest, til the end. With what feels like an endless number of options, split between several different sub categories such as natural test boosters, "hardcore" muscle builders, and protein synthesis elevators, this was a category that took a lot of work to crown a winner, but we did it. Although the stores were divided between three different natural test boosters, the overall winner in the end was Blackstone Labs Apex Male. This all natural testosterone booster is filled with naturally derived ingredients that have been shown to help men restore optimal testosterone production, without any chemicals, pharmaceuticals, patches, or injections. 
       This well developed and properly dosed formula has helped many XN customers feel more energized, stronger, and more like their younger selves this year, and we know that because they've come back time and time again, to let us know. Although we didn't know for sure, we probably could have predicted that Blackstone Labs Apex Male would become XN Supps Most Popular Test Booster, in 2020.

*Due to Popularity of This Product, APEX MALE is Currently Out of Stock. To Find Out When This Product is Available Again, Please Follow Us on Instagram and Keep an Eye on Our Story!*
XN Supps' Most Popular Multivitamin of 2020
       Is this even a question? Do you really not know? The most popular multivitamin at XN Supplements & Smoothies this year, really is a TRU G.O.A.T. With a clean sweep across all three XN locations, PEScience TruMulti held its position as XN's most popular vitamin, for another year in a row, and it's honestly not much of a surprise. This beautifully formulated multivitamin not only contains all of the essential vitamins and minerals you need to keep your body functioning properly and your immune system strong, it also includes a clinical dose of KSM-66 Ashwagandha, which has been shown to help reduce cortisol response, a hormone elevated during times of stress, which makes it difficult to maintain a healthy weight, build muscle, or recover after activity. This formula is tried and true, and has really been the XN Supplements & Smoothies Most Popular Multivitamin for years, even though it's just now claiming it's official crown.

XN Supps' Most Popular Protein of 2020
       Protein, protein, protein. This one was hard too. What type of protein are we talking about? Isolate protein? Casein protein? Vegan protein? The sub categories could go on for days. So, at the end of the day, we decided it was just best to put them all into the same category and count them up. In all three locations, out of all the brands, the blends, the flavors, and diet specific formulas, two proteins stood strong, and had to be named co-winners. After it was all said and done, Beverly International UMP & Axe & Sledge Farm Fed tied this year for XN Supplements & Smoothies Most Popular Protein, and we would speculate that these two were so popular because of their superior flavor profiles.
    While we try to make sure that all of the proteins on the shelves at XN Supps "taste good," some brands just really do it better than others, and this truly is the case with Beverly International and Axe & Sledge. Both of these brands make several flavors of their respective protein, and every single one of them is a hit, here at XN Supps. Time and time again, customers will grab these proteins off the shelf, and remark to our staff members that they "just taste so good!"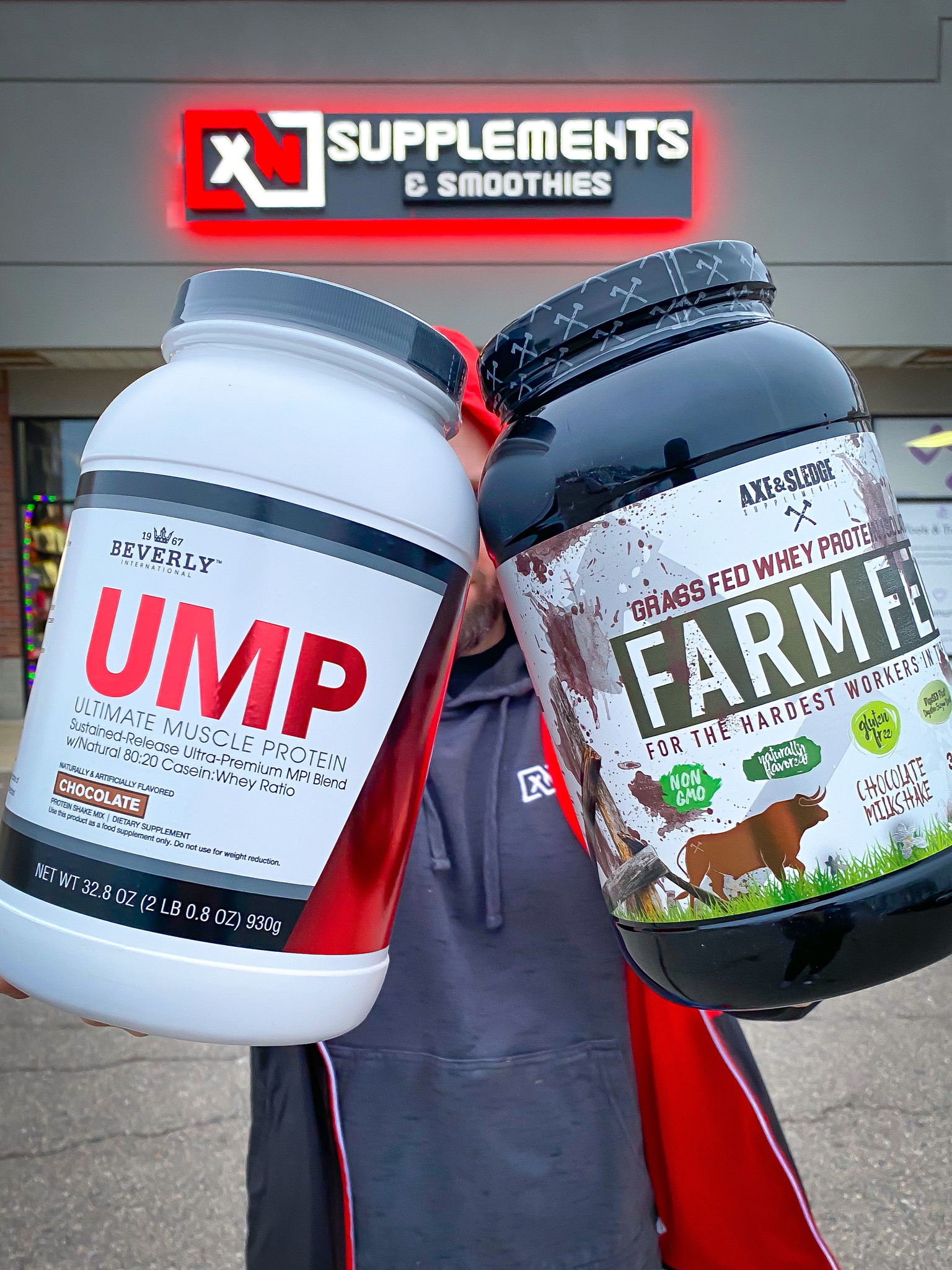 XN Supps' Most Popular Energy Drinks of 2020
       Watch out! Raze train coming through! If you thought the hype around Raze Energy died down, we are here to reassure you that it hasn't. How could it? 300mg of natural caffeine for a smooth clean energy, nootropics to improve focus, and deliciously refreshing flavors, like Baja Lime (Raze's extremely accurate take on Taco Bell Baja Blast), that make you want to crush can after can. What more could you want in an energy drink? We can't think of anything and apparently our customers couldn't either, because Raze swept all three locations, to claim a unanimous victory, and become XN Supplements & Smoothies Most Popular Energy Drink of 2020. 

XN Supps' Most Popular Protein Bar of 2020
       No, surprises here. Wrapping up the XN Supps' Most Popular Products list this year, was the protein bar category, and the only question here was: Which flavor Outright Bar did you guys really love the most? Ever since the initial launch of the first two flavors, the Outright Bar has taken XN Supps by storm. Quickly becoming our most popular bar by far, and only increasing its popularity with every new flavor. It's not a shock either, with great macros for a whole food based bar, that soft, crumbly, almost no-bake like texture, and in most cases, a whole lot of peanut butter, it's an absolute no brainer that Marc Lobliner's The Outright Bar is XN Supps' Most Popular Protein Bar of 2020.




*In Celebration, all of our top products from 2020 will be worth 3X Rewards now through February 15th*